Let's talk about bathrooms.
People go to the bathroom for a number of reasons – to answer nature's call, to wash/clean their hands or their clothes on which they've dropped mustard, or to ruminate and ponder the purpose of their lives. Then, there are those people who access the restroom to take a selfie or two.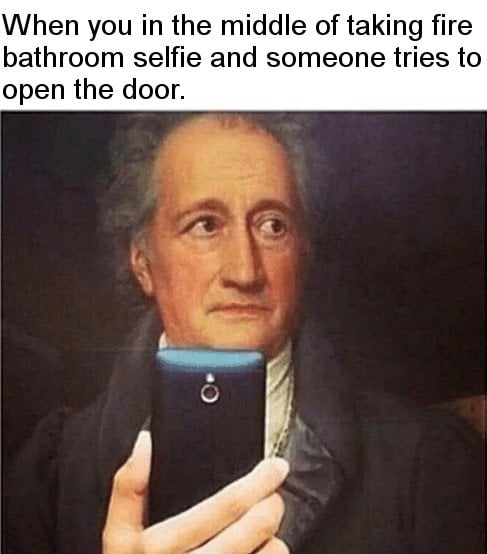 Now, here's a thing that I have noticed in my years of using washrooms – and I doubt I'm alone – most bathroom doors open inwards, i.e. they are designed in a 'push to enter' and 'pull to exit' style. In other words, you have to push the restroom door to enter it and then pull on the door to exit.
However, some say that it would make more sense if it were the other way round, i.e., you would pull the door to enter the restroom and push to exit. The primary reason behind this is that, in such a setting, you wouldn't have to touch the door knob/handle with your clean hands as you exit; you could just push the door and be on your way.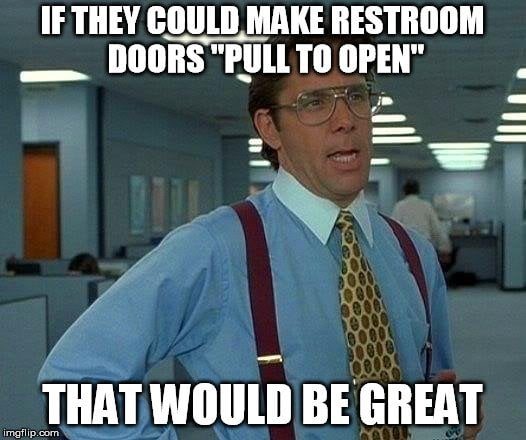 First, let me tell you that not all restroom doors are the same. There ARE restrooms whose doors are "pull to open". I have been to quite a few such restrooms myself. So, we are only discussing the majority of restroom doors, i.e., those that are "push to open".
As it turns out, restroom doors opening inwards is not just a random design thing. There are, in fact, multiple reasons behind that particular setting…
Don't block the hallway/corridor
This is actually the most pertinent reason behind the "push to enter" doors. The best thing about "push to enter" doors is that, since they open inwards, they don't block the hallway/corridor.
Suppose there's a high 'traffic' restroom in the hallway. If people keep going in/coming out of the restroom, the door (a "pull to open" type) will not only hijack some space in the hallway, but also cause a nuisance/disruption to people walking down the hallway, especially if it's a busy area.
Additionally, many public bathrooms have drinking fountains, closets, or other utilities near them. If you have a "pull to open" door there, it will make things somewhat less convenient for people who need to use those utilities.
A "pull to open" door can be even worse if the corridor is narrow and/or there's an emergency. You can't really afford to have a restroom door blocking or hindering the movement of people (during an evacuation) through the narrow corridor.
At any rate, doors that are highly used typically open outwards (push to open). This is because, if there's an emergency and everyone is panicking, a door that must be pulled open can be a nightmare. It can potentially prevent people from exiting quickly, which can lead to disastrous consequences.
This is the primary reason behind the popularity of "push to open" doors in restrooms, but there are other reasons.
Safety
"Push to enter" doors have hinges and lock on the inside, so you can't get locked inside the bathroom. Also, a "push to exit" door can be somewhat dangerous for people walking past the doorway just outside the bathroom door, as they have absolutely no idea when the door might fly open and knock them to the floor.
Odor control
Perhaps most notably, some washrooms don't smell very good. A "push to enter" door helps somewhat to keep the "smell problem" under control. When a "push to enter" door opens into the washroom, some of the clean, non-smelly air from the outside is sucked inside and mixed with the washroom air.
However, if it's a "pull to enter" door, this action is reversed. You now have your washroom air getting sucked out of the washroom, which may not necessarily be a great thing.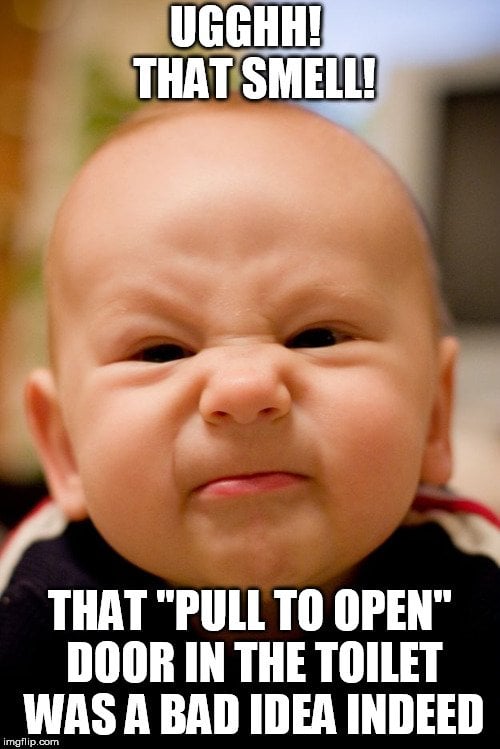 Privacy and cleanliness
Humans generally want and prefer privacy while performing restroom-related activities. A door swinging out from the restroom opens up the entire width of the door frame. This gives a somewhat unrestricted view of the inside of the restroom from the hallway, which is not preferable to most people.
Also, if you're going into the washroom to clean/wash something off (e.g., your fingers, palms etc.), a "push to open" door is a better alternative, since you don't have to touch the door handle to open it and enter the washroom.
Lastly, a personal observation – people are generally in more of a "hurry" when entering the washroom than while exiting it. Thus, a "push to enter" door saves a few precious nanoseconds, which may salvage some poor fellow from embarrassing himself and being tortured by the memory for the rest of his life.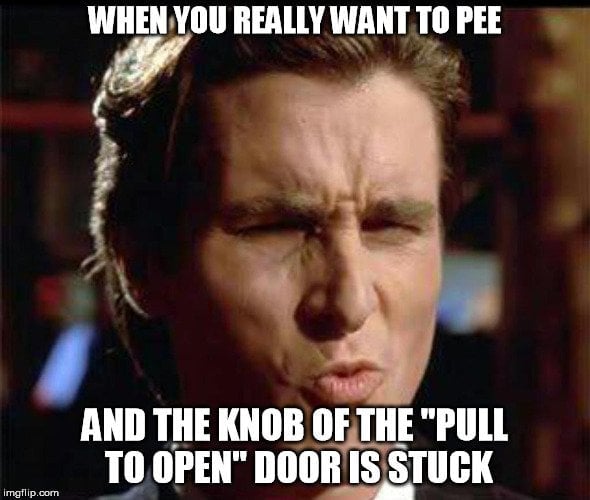 References