Dogs are known as man's best friend. Dogs are also known for their loyalty, which is probably why they are mankind's most beloved pets. However, most dogs love their masters 100 times more than their masters love them. Similarly, a dog's sense of smell is far greater than a human's sense of smell.
Dogs' sense of smell is essentially what sense of sight is to humans. Dogs interpret the world through their nose, as compared to humans, who are dependent on their sight to see the world.
---
Recommended Video for you:
---
Dog Nose vs. Human Nose
When we try to smell something, we inhale air with our nose and we use the same passage in our nose to exhale that air. Therefore, all the smell that we get when we are inhaling is lost when we exhale that air. However, a dog has two different air passages, one for breathing and another for smelling. This means that dogs are able to store the smell in their nose even while breathing out the air!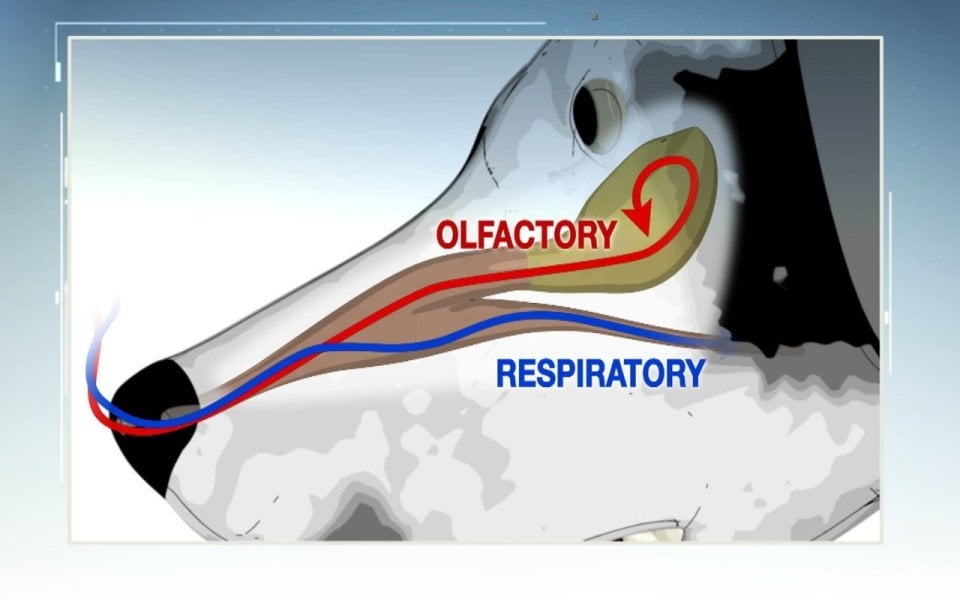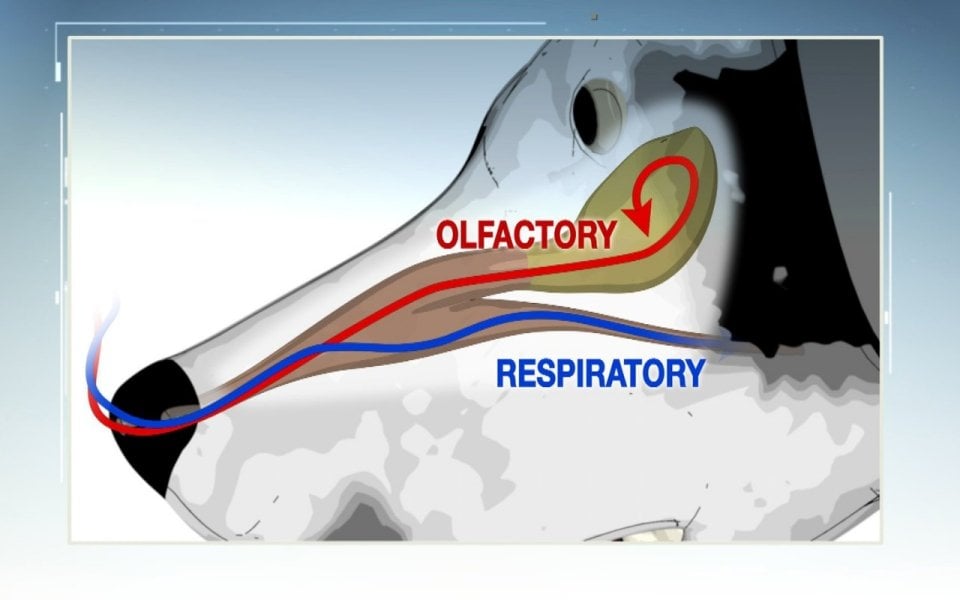 When dogs exhale, they send air out through the slits of their nose, but the manner in which this air is exhaled through their nose helps the dogs to draw in new odor molecules. This also helps dogs capture more smells when sniffing.
You must have noticed that dogs' noses are always wet, but have you ever wondered why? The mucus on the dog's nose helps it smell by capturing scent particles. A dog also has the ability to smell independently from each nostril, this helps the dog to understand from which direction the smell is coming.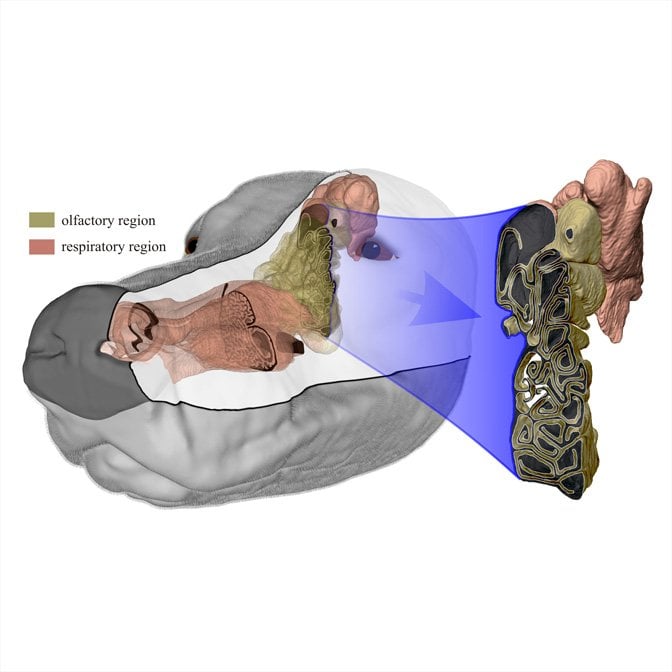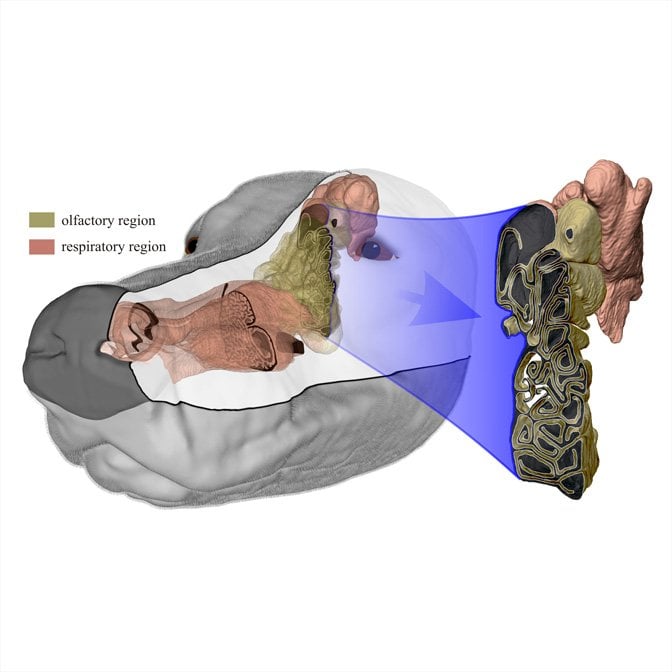 The passage through which dogs smell the air contains highly specialized olfactory receptor cells, which are responsible for receiving smells. A dog contains about 225-300 million smell receptors, as compared to just 5 million of these receptors being present in a human nose.
Dog Brain vs. Human Brain
By now, we clearly know that dogs have a nose that can smell about 1,000-10,000 times better than a human, but how are dogs able to remember all the different smells that they have sensed throughout their life?
The answer lies in the difference between the brains of dogs and humans. A human brain has a larger visual cortex than dogs, whereas a dog's brain has a much larger olfactory cortex than humans. The visual cortex is responsible for processing visual information, whereas the olfactory cortex is responsible for processing the sense of smell. A dog's olfactory cortex is about 40 times larger than that of a human.
Dog's sense of smell
Humans perceive the world through their vision, while dogs experience the world through their nose. Every smell is different for a dog, and each smell has a story behind it. When a dog smells a person, another dog, or any random scent, he is trying to determine the history behind it.
Dogs contain another special olfactory system above the roof of its mouth called the vomeronasal organ, which helps dogs sense things that they cannot see, such as human emotions. A dog can tell if a person is sad or happy, and this also helps dogs know whether an animal is friendly or dangerous to them. This unique ability also helps them identify potential mates.
The power of the canine sense of smell is unique and has helped humans in a number of ways. A dog can feel if a person is sick or sad, and can even identify if someone is pregnant. With proper training, some dogs can even be trained to detect bombs. They can sense the emotions of humans and react appropriately in a time of need, and they also have been able to help in the early detection of cancer in humans, essentially saving the lives of their owners.
A dog does not care how you look or dress, but if he gets good vibes from your smell, then a dog will love you. The world is truly a better place because of these wonderful creatures that we are lucky enough to welcome into our lives.
Why not make the world smell a bit more beautiful for them?
Suggested Reading
Was this article helpful?