If you've ever closely observed a cockroach that's about to die, you may have noticed that, more often than not, it will fall on its back before departing the world forever. Although it's not necessarily true for every cockroach death, it's a fairly common phenomenon in the world of roaches. As disgusting as this might be, have you ever wondered WHY this is the case?
Why do cockroaches topple on their backs when they're about to die?
Short answer: Cockroach deaths that end with the insect on its back are usually caused by insecticides, which affect a cockroach's nervous system and induce muscular spasms, which make it fall over on its back. After toppling over, the roach finds it incredibly difficult to right itself (especially in modern, tiled households) and eventually dies.
Do cockroaches always die on their backs?
No.
Notwithstanding the countless observations of cockroach deaths you've had in your own household, not every cockroach ends up on its back in its final moments on Earth. In the wild, for example, you won't find many cockroaches dying on their backs. Out in the woods, their primary enemies are predators (e.g., geckos, bats, spiders, scorpions etc.), as well as a lack of food and nourishment.
---
Recommended Video for you:
---
Furthermore, cockroaches can right themselves relatively easily in the wild, as they have plenty of things lying on the ground (e.g., leaves, twigs, organic debris etc.) that they can grab hold of to right themselves. All of this is to say that not all cockroaches die on their backs. But for the ones that do, there are a few reasons:
Insecticides adversely affect the nervous system of cockroaches
A cockroach's legs (6 legs in total) need constant nerve stimulation to remain in a 'tucked' position beneath the body. Look at the following image for a better visualization of this:
In simple words, a healthy cockroach has its legs a bit curled up, thanks to a bunch of nerves for each pair of legs that provide constant stimulation and help control its movements. That's why a headless cockroach can still move around erratically and try to re-orient itself before dying. (Source)
Most insecticides are neurotoxins (organophosphate nerve poisons). These poisons tend to inhibit an enzyme called cholinesterase, which breaks down a neurotransmitter called acetylcholine (ACh). The direct upshot of this is that the cockroach's nervous system gets an excess of ACh, which can then trigger muscular spasms and tremors (little seizures, if you will). This results in the intoxicated cockroach toppling over on its back. What compounds the plight of the poor insect even more is that…
Cockroaches don't like polished, tiled surfaces
Some insects enjoy being domesticated in households with smooth, polished surfaces, but cockroaches aren't one of them.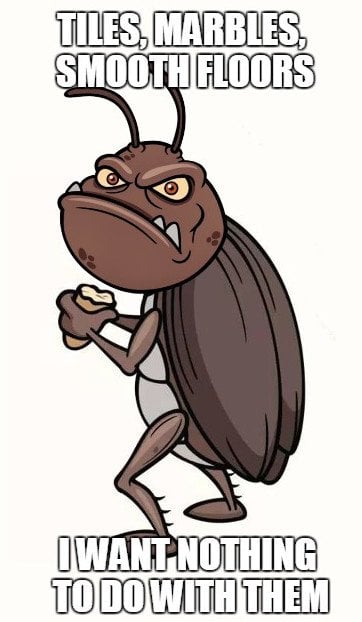 Out of more than 5,000 species of cockroaches (that we know about so far), there are only about half a dozen that are household pests. (Source) However, there are quite a few species that mistakenly enter a domestic premises and can't find their way back, so they ultimately end up being stuck inside somewhere.
Living atop polished tile surfaces, cockroaches have a hard time righting themselves if they get disoriented or flip over. The worst-case scenario is falling on their back on a polished surface, because they don't have anything to grab hold of with their legs, unlike life in the wild, where they are surrounded by grass, dirt, twigs, organic debris etc. to help them right themselves.
Without proper muscular coordination and anything to grab hold of, the cockroach usually ends up dead in the 'on-its-back' position.
When a cockroach dies of old age
Cockroaches have long legs, which means they have a high center of gravity. They manage it pretty well when they're young and healthy, but as they age, their rounded back is gradually pulled towards the floor. With weakened muscles (a byproduct of old age), they find it incredibly difficult to right themselves once they fall over, especially on polished surfaces.
Interestingly, not all cockroaches on their backs end up dying. Some try very hard to right themselves, but give up after getting tired and choose to play dead instead. The moment someone touches them with a broom or anything else, their legs grab on to something, they get upright instantly, and then scurry into the dingy recesses of your room, never to be seen again, before you get over being startled!
Suggested Reading
Was this article helpful?