Table of Contents (click to expand)
This odd phenomenon has a lot to do with whisker fatigue; it happens to some cats when their highly sensitive whiskers are constantly being brushed up or touched against a surface, such as the sides of a bowl.
You may have noticed this if you've observed a cat eating food from a container—they stop eating when the bottom of the container becomes visible, or when there's still food left in the container, but not right in the middle of it.
Alternatively, some cats also nudge their food out of the bowl and eat off the floor instead, obviously making a mess of things in the process.
Another very common 'cat tantrum' is your feline friend hounding you endlessly to feed it, but when you actually put food right in front of it, your cat will refuse to eat.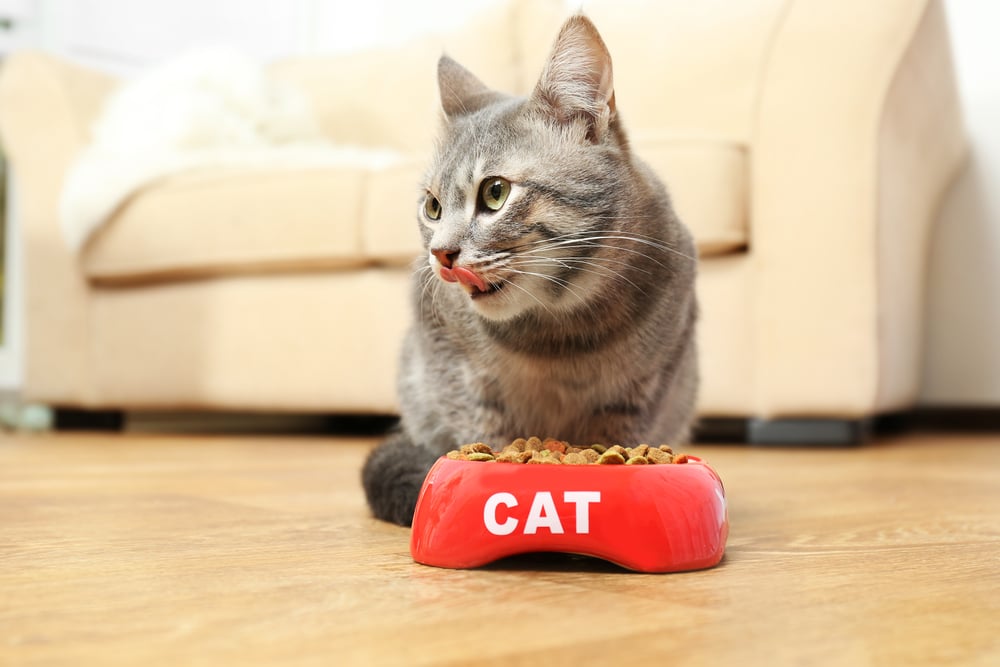 Why do cats do this? Why do they refuse to eat from their bowl when it still has plenty of food left?
As it turns out, it has a lot to do with cats' whiskers!
---
Recommended Video for you:
---
What Are Cat Whiskers And What Do They Do?
Don't you just love those cute, facial adornments around a cat's mouth? Those little hairs are 'smart' biological antennae on a cat's face.
Also known as facial vibrissae, these whiskers have proprioceptors at their ends, which keep the cat informed regarding the world around it. Each whisker is like a special sensor that converts mechanical information about the cat's surroundings into electrical signals, which are then transmitted to their brain.
Although they appear cute and small on the outside, a cat's whiskers are longer than you'd think by just glancing at them—their length is approximately equal to the breadth of the cat. This helps a cat make sense of the size of an opening; basically, if its whiskers don't touch on either side of the opening, it knows that the opening is big enough to fit through.
This is part of the reason why cats aren't afraid to get inside really tiny boxes or jars.

There are some other cool things that a cat's whiskers can do. They can sense changes in air currents when hunting, which gives them a competitive edge as a predator. In other words, a cat's whiskers help it 'see' up close by supplementing its short-distance vision (Source).
Also Read: Why Do Cats Have Whiskers?
Why Does Your Cat Refuse To Eat When There's Still Food In The Bowl?
A frequent reason for a healthy cat to refuse to eat from a bowl with plenty of food left behind is that the cat may have whisker fatigue.
As mentioned earlier, at the end of a cat's whisker are proprioceptors—sensory receptors that responds to position and movement. These proprioceptors make cat whiskers so sensitive that they get fatigued or 'tired' by unnecessary contact, such as something repeatedly brushing against them, like the sides of a food bowl.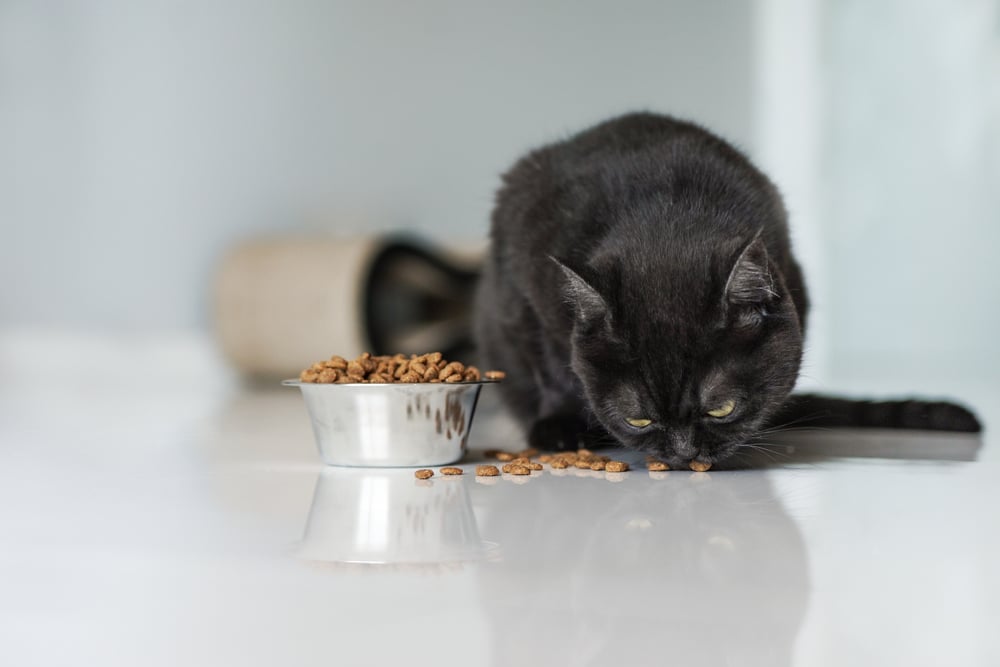 This is why cats generally eat from the center of the bowl. When the amount of food in the center gets depleted (and the base of the bowl becomes visible), the cat simply stops eating, as it realizes that eating from the sides of the bowl will hurt or cause stress.
This is also why a really hungry cat will sometimes tip the bowl and eat their food off the floor; this way, its whiskers don't brush against the sides of the bowl, but they still get to finish their meal!
This Is NOT The Only Reason Why A Cat Won't Eat
It's important to note that whisker fatigue is not the only reason why cats occasionally refuse to eat. There are some other factors to consider, such as medical illness, stress, psychological issues, and recent vaccinations. A cat also might not eat if it's in an unfamiliar or new environment.
This is why many cat owners struggle to feed their cats when they're traveling. Furthermore, traveling may cause motion sickness, which can lead to nausea and a subsequent refusal to eat.
So, if your cat eats normally from a bowl's center, but refuses to eat when the base of the bowl becomes visible, it's time to get your cat a new food container with a design that doesn't irritate their whiskers!
Also Read: Should Cats Actually Drink Milk?
How well do you understand the article above!
Can you answer a few questions based on the article you just read?

References (click to expand)
Share This Article
Was this article helpful?