Asteroids and comets are both small celestial bodies that orbit the sun. asteroids are mostly made of rock, while comets are made of ice and dust. Both asteroids and comets formed in the early days of the solar system, but comets formed further from the sun, where their ice didn't melt. Asteroids are usually found in the asteroid belt, while comets are found in the Oort Cloud and Kuiper Belt.
Although both asteroids and comets were formed in the early days of our solar system's formation, asteroids are huge rocky objects that are mostly found in the asteroid belt between Mars and Jupiter, whereas comets are frozen balls of gas, ice and rocky material.
Even if you don't consider yourself much of a space enthusiast, it's highly unlikely that you haven't heard of 'asteroids' and 'comets'. In every discussion regarding the various members of our solar system, their names invariably pop up.
Although they have different names and have always been categorized in a separate class of celestial bodies, according to the views developed in the last decade or so, astronomers think these two space-bound objects are more alike than they were originally believed to be.
In this article, we shall look at some of the similarities and differences between asteroids and comets. Let's start with the basics…
What Is An Asteroid?
Asteroids are tiny, medium-sized or ultra-large pieces of rocks that orbit the sun, like all the other members of the solar system. Since asteroids are made of the same material as planets, they are also sometimes referred to as 'minor planets'.
A majority of asteroids are found in the Asteroid Belt, which is a donut-shaped ring that lies between the orbits of the Mars and Jupiter. The largest asteroids are known as planetoids; in fact, the four largest known asteroids are spherical in shape, just like the Earth. However, asteroids smaller than 30 miles/48 km in diameter are not spherical; they tend to have random shapes (Source).
---
Recommended Video for you:
If you wish to buy/license this video, please write to us at admin@scienceabc.com.
---
What Is A Comet?
A comet is a relatively small body, made of ice and dust, that has a highly eccentric elliptical orbit. Its orbital period can range from a few years to a million years or more.
Made of ice and gases mixed with dust, comets have an icy nucleus that is surrounded by a huge, visible atmosphere of gas and dust (called a coma). A gravitational kick from a nearby star or some disturbance in the Oort Cloud sends long-period comets hurtling into our solar system towards the sun.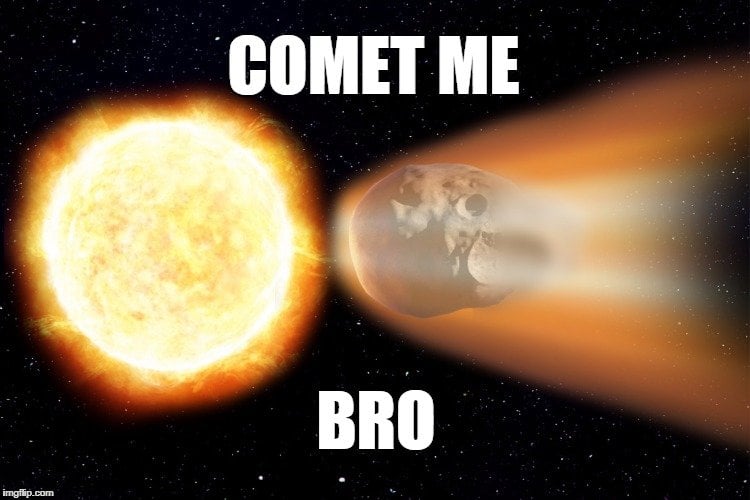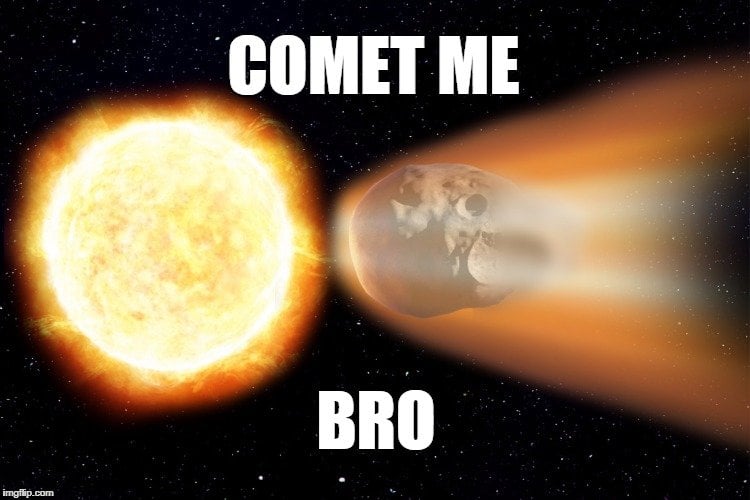 Also Read: Where Do Meteorites Come From?
Differences Between Asteroids And Comets​
The primary difference between comets and asteroids lies in their respective composition. While comets are mostly made of ice, dust and rocks (you can call them dusty ice balls), asteroids are made of metals and rocky material.
Although both comets and asteroids formed in the early days of our solar system's formation, comets formed too far away from the sun, where their ice could not melt, while asteroids formed close to the sun, where ice could not remain solid (hence the solid, rocky surface of asteroids).
Another stark difference between these two celestial bodies is that while comets form tails when they pass through the inner solar system, asteroids don't.
Asteroids are usually found in the asteroid belt, whereas comets predominantly orbit the sun in two regions: the Oort Cloud and the Kuiper Belt. Furthermore, asteroids orbit the sun in the same direction as other planets, but comets do not necessarily orbit the sun in any uniform way.
Similarities Between Asteroids And Comets
Both asteroids and comets orbit the central star of the solar system (although the orbits of comets are highly eccentric). Both of these celestial bodies sometimes fly close to Earth. As for their origins, both asteroids and comets are made from materials that were around during the formation of our solar system roughly 4.5 billion years ago.
In the 1980s and 1990s, the clear distinction between comets and asteroids began to blur. After the Kuiper Belt was discovered, it was clear that a large number of comets and icy bodies existed on the edge of our solar system, much closer than the Oort Cloud.
The discovery of Main-belt Comets (MBCs) – celestial bodies with comet-like activity during part of their orbit that are found within the asteroid belt – further clouded the distinction between comets and asteroids.
Their discovery led to the hypothesis that several main-belt asteroids might have been ex-comets whose volatile constituents evaporated a long time ago.
Also Read: What Is The Difference Between Asteroids, Meteors And Meteorites?
To make things even more interesting, a number of other celestial bodies have been discovered that possess properties of both asteroids and comets, and are therefore cross-listed in both categories. Some of those celestial objects include 2060 Chiron, 60558 Echeclus and 4015 Wilson-Harrington.
The aforementioned properties and recent discoveries of such celestial objects have led astronomers to believe that asteroids and comets are not as clearly distinct as had originally been thought.
Share This Article
Suggested Reading
Was this article helpful?