Yes, butterflies taste with their feet. A butterfly has taste sensors on its legs, which inform it about the taste of the plants it stands on
When you eat your food, depending on how it tastes, you can decide whether you like it or not. You can thank the taste buds on your tongue for that important aspect of enjoying life!
What if I told you that butterflies are quite a bit different, namely that their taste buds are present on their legs?
That's right! Butterflies have these taste sensors on their legs, which inform them about the taste of the plants they stand on. Not only that, these sensors also tell the butterflies if the plant is good enough to lay their eggs on.
How Do They Eat?
So now that we know how butterflies taste their food, the natural question is, how do they eat it? They can't actually chew or bite their food, but they instead drink liquids in the form of nectar, sap, juices from fruits, and certain minerals.
They have a long straw-like structure called a proboscis that performs these important tasks. Initially, when the butterflies come out of their pupal case or chrysalis, the proboscis is separated in two parts.
As it grows, the first thing an adult must do is assemble its proboscis using palpi located near the proboscis to form one long, tubular structure. If it doesn't achieve this in a timely manner, then the butterfly can't drink and won't be able to survive for long.
New butterflies often curl and uncurl their proboscis to test it. When the proboscis is not being used, it's curled up like a garden hose.
A peculiar behavior called puddling is also seen in most male butterflies. Puddling is the action of drinking from mud puddles in order to supplement their nectar diet with minerals and salts. By doing this, minerals are incorporated in their sperm.
These nutrients are transferred to females during mating and helps to improve the viability of her eggs.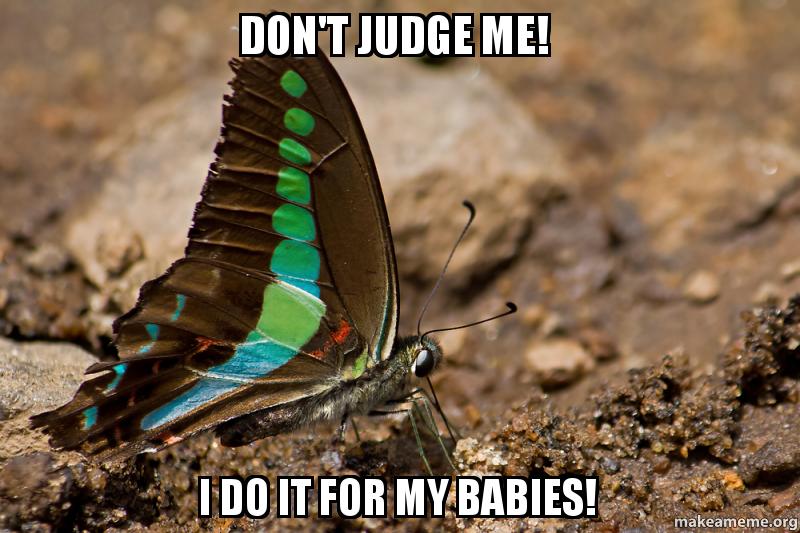 Oh, by the way, if you're sitting in a park or a garden on a sunny day, and a butterfly happens to land on you, you could take it as a compliment, but in truth, butterflies are probably just attracted to your salt and sweat.
References